Hello everyone! A special belated Mother's Day to all you hard working and crafty moms!!!
Audrey
here to share my take on this months' challenge.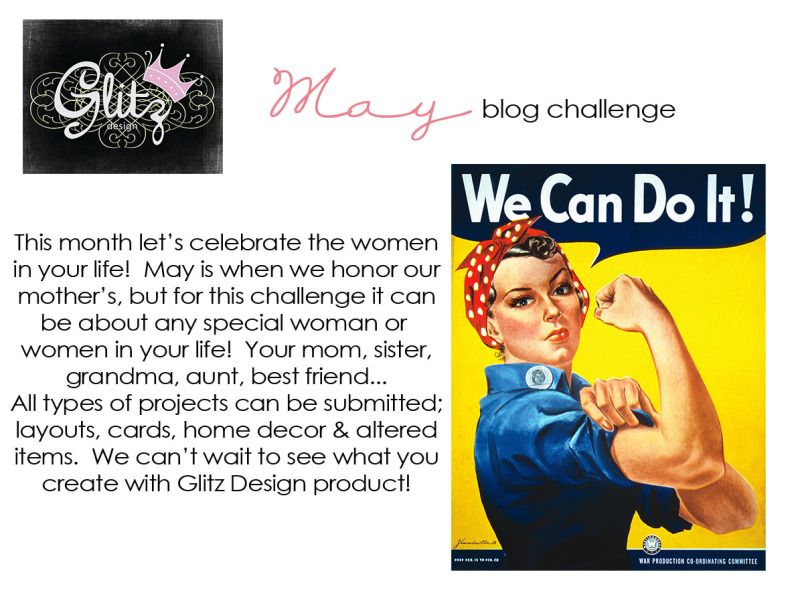 Since my mom got an iPhone, she takes photos of herself and stuff around her all the time and send them to me to share with my daughter. So I grabbed one of my favorite photos from my phone and made a page about it! She is a fantastic mother, but an even better Grandma. My daughter misses her so (we are 1700 miles apart). Anyways, I wanted to use some bright girly colors so I went with this palette:
I actually have been using my Cricut a lot lately, and I used it to cut out this lacy pattern from some bright yellow paper from Vintage Blue. I also really liked the inside shapes, too, so I added them to my page as well.
I added a few dabs of Stickles here and there for some sparkle and this phrase is totally something my mom would say! :)
I found this wooden word in my stash and misted it to match the papers and stickers. I just love these teeny alphas, too!
We wouldn't be called "moms" if we didn't have these precious things to make us who we are. I'm talking about sweet babies!
I also put my Cricut to work on this page, too, cutting out these doilies from an free svg file I found online. I just resized them and cut three of them to place on my page. A small maroon punched flower and a rhinestone are in the center, and I used some jute twine and wrapped it around the page.
I had a lot of fun layer some of the chipboard stickers, transparencies, and epoxy stickers, too.
And I don't often use premade titles for my pages, but the word "Joli" just seemed to capture my sweet little guys' personality! I stitched the stickers over one of the small doilies on the edge of the page.
Thanks for joining me today!
Supplies:
"Grandma Talk"
Vintage Blue Toile Paper
Happy Travels Polka Paper
Pretty in Pink Polka Paper
Pretty in Pink Music Paper
Pretty in Pink Paper Layers
Pretty in Pink Peek-a-Boos
Pretty In Pink Teeny Alphas Pink
Pretty in Pink Glitzers
Pretty in Pink Epoxy Stickers
Happy Travels Glitzers Stickers
Happy Travels Giant Rhinestones
Happy Travels Journaling Stickers
French Kiss Epoxy Stickers
"Joli"
Happy Travels Floral Paper
Happy Travels Stripe Paper
Vintage Blue Toile Paper
French Kiss Floral Paper
Happy Travels Paper Layers
French Kiss Layered Cardstock Stickers
Happy Travels Giant Rhinestones
Happy Travels Epoxy Stickers
Happy Travels Peek-a-boos
Pretty in Pink Layered Stickers